Euro Challenge/Poetry Out Loud
Euro Challenge: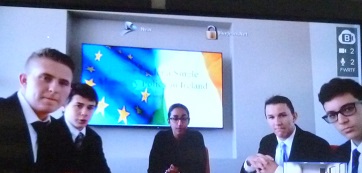 Our PK Yonge students won 2nd Place in the 2018 competition for the State of Florida. We want to thank our 2018 team and their members: Jackson Fugate, Aleks Wade, Adrian Perez, Ghaida Ebrahin and Destin Altenhof.
PROGRAM DESCRIPTION
The Euro Challenge https:/www.euro-challenge.org is an exciting educational opportunity for 9th and 10th grade high school students to learn about the European Union (EU) and the euro. Teams of three to five students are asked to make presentations answering specific questions about the European economy and the single currency, the euro. They are also asked to pick one member country of the "euro area" (the 19 EU member countries that have adopted the euro so far), to examine an economic problem at the country level, and to identify policies for responding to that problem.
Poetry Out Loud: 
Poetry Out Loud finalists for the state of Florida. Our own Mary Rocha (7th in line)  was chosen in the top ten out of 44 schools.
Poetry Out Loud is a national poetry competition for high school students sponsored by the Florida Humanities Council, the National Endowment for the Arts, and the Poetry Foundation in partnership with the Florida Department State, Division of Cultural Affairs and the Florida Council on Arts and Culture. The goal of the program is twofold: it is to give teachers the materials and resources to guide students toward a deeper understanding of the power of language and poetry, and for students to read and recite great poems while enhancing their public speaking and presentation skills. For more on Poetry Out Loud visit poetryoutloud.org.
Want to learn more, please come to our meetings Tuesdays during lunch.